Upgrade From JBJ 45 to 120G
Not sure what is going on the forums, but it is twice when I post a topic and it seems nothing gets published.
Here I go again.
Migrating my JBJ 45 to a 120G plus sump (so probably like 140G) tank, so far so good, dealt with a mini cycle, some plumbing issues, making the saltwater having my stock on bags and buckets, lost a cleaner shrimp :(. It was a crazy weekend but finally done. Thanks also to the LFS (exotic aquatics on helping on the initial setup, some water and sand and plumbing)
BTW my old tank is now available on the dry goods and the goodies.
Before:
After:
Topic starter
Posted : 01/06/2020 11:41 am
Looks great Raul, how exciting!
Keep us posted on the progress. 🙂
Posted : 01/06/2020 1:27 pm
Posted : 01/07/2020 6:10 pm
Here are some updated pics
And the gear:
Planet Aquarium Rimless 120G with upgraded front Crystal/ Internal Overflow.
Planet Aquarium Elegance Black stand.
Sump Trigger systems Emerald 39"
Protein Skimmer Red Sea rsk-600
Clarisea 3000
APEX SYSTEM Already had it.

LSM module
WM module
FMM module
COR-20 Return PUMP getting about 1023 gph.
FS-200
Trident (love this thing and with the DOS system) I have th ALK on par, even after the upgrade tank.
2 DOS systems for NOPOX/2 PART DOSING/ AMINOS (Already had)
Breakout box with some switches and sensors on it.
Leak Sensors I already had

Fuge Light
2 Kessil 160w already had before
2 Kessil a360we had to go with this to control with the apex, (if you have not figures out I am a control freak)
Tunze ATO (Already had)
2 ECOTECH MP40s
Heaters Fluval and a Jaeger (getting some titanium ones)
ATO container 20G (under the black box that doesn't look part of the stand)
And well no fish room, I wish I had one, so for that I had to have a lot of space on the back to move around, do not like tanks all the way to the wall.
There were some plumbing issues, but well one of this days will clean it up, too late to make that many changes 🙂
Topic starter
Posted : 01/08/2020 1:04 pm
Updated PIC, after a month, had some Cyano I think I brought from my 45g, did the Chemiclean treatment, there is a lot of work on that treatment, protein skimmer going nuts and well worried that something would happen to the stock, but I guess if you follow instructions should be fine.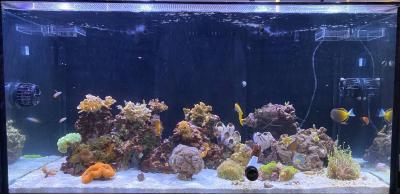 Topic starter
Posted : 02/09/2020 1:00 pm
Yep just keep to the instructions and should be fine. 
Looking good though!
Posted : 02/09/2020 8:44 pm
Thanks, with this COVID-19 thing, I been working on moving my RODI system to the Garage, run RODI tubing plus CAT5 from the garage tot he Office about 30 ft run, Had to do it from the outside, and use PVC as a conduit to run the tubes and cables, Also working on a saltwater stations and using a DOS for auto water changes, since I added CaRX do not need to do 2 part dosing. Work in progress, but weekends and weekdays have been long, had to put my mind into something, besides taking care of the fam, and some work ( I said some, since my customers are in the same boat as anyone so there is not much to do for now)
Topic starter
Posted : 03/29/2020 11:41 am