RED SEA SALT Group Buy @@ 2 Day Sale ONLY @@ only for DFW Members
Glass Aquatics is your local Red Sea Dealer! We have been given permission to Red Sea to offer a one time group buy to DFW Members only. You can buy as many buckets as you like as individuals.... however, as a group, this group buy MUST HAVE a minimum of 8 buckets sold in order to participate. Otherwise, there is no group buy.  Each bucket has a FREE $$Reef Energy$$ in each bucket (this is my favorite Red Sea product) Talk about polyp extension!!! HOW MANY BUYERS DO WE HAVE??? Call in to Glass Aquatics to order Tomorrow or Friday. Sales ends on Friday at 4pm!
Coral Pro Salt 175 gallon bucket is $69.99
Red Sea Salt 175 gallon bucket is $55.99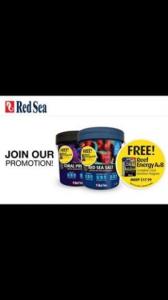 Promo is for in store pick up only. No online sales!
Check out our online store
www.glassaquaticsonline.com
Salt delivered to store for pick up mid October
Unable to create new thread, but dfwmas webmaster working on resolving
Glass Aquatics has moved into their larger home at:
522 W Harwood Road, Hurst TX
10/12/2021 Tuesday Freshwater Sale
Buy $75.00 in Freshwater livestock;
get a $15.00 Gift Certificate for future use!
10/13/2021 Wednesday Saltwater Sale
One Fish, Two Fish, Red Fish, Blue Fish Sale! Buy one red saltwater fish or coral; get one blue fish or coral of equal or lesser value for 50%
Hours:
11-7pm Monday
11-6pm Tuesday
11-7pm Wednesday
11-7pm Thursday
11-7pm Friday
12-6pm Saturday
closed Sunday
Coming Soon - Live Stream Tuesdays 6pm - Whole NEW Experience!
Posted : 10/12/2021 10:41 am