RED SEA SALT Group Buy @@ 2 Day Sale ONLY @@ only for DFW Members
Glass Aquatics is your local Red Sea Dealer! We have been given permission to Red Sea to offer a one time group buy to DFW Members only. You can buy as many buckets as you like as individuals.... however, as a group, this group buy MUST HAVE a minimum of 8 buckets sold in order to participate. Otherwise, there is no group buy.  Each bucket has a FREE $$Reef Energy$$ in each bucket (this is my favorite Red Sea product) Talk about polyp extension!!! HOW MANY BUYERS DO WE HAVE??? Call in to Glass Aquatics to order Tomorrow or Friday. Sales ends on Friday at 4pm!
Coral Pro Salt 175 gallon bucket is $69.99
Red Sea Salt 175 gallon bucket is $55.99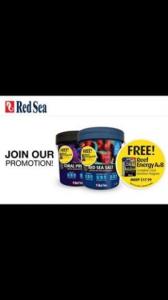 Promo is for in store pick up only. No online sales!
Check out our online store
www.glassaquaticsonline.com
Salt delivered to store for pick up mid October